Compostable hard-bottom bag: transparency and protection
Deltasacs is an innovative and eco-responsible company We believe in offering our customers high-quality flexible packaging solutions that satisfy their wish to use something non-standard.
That is why, for several years, we have offered hard-bottom bags made with compostable materials.
Advantages of the compostable hard-bottom bag
Advantages of the compostable hard-bottom bag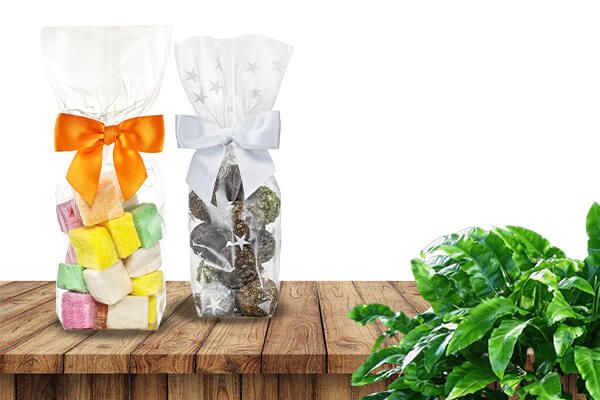 The compostable hard-bottom bag is made of a Natureflex film. This Natureflex film helps to reduce the consumption of fossil resources and to reduce greenhouse gas emissions.
The Natureflex film has unique properties. Its use has a positive impact for consumers.
Its transparency both displays and protects the contents of all your bags, protecting consumers from the risks of virus proliferation.
Who uses the compostable hard-bottom bag?
The artisan chocolate maker, confectioner, biscuit or nougat maker : chocolate eggs, sweets, pralines, sugar-coated almonds, biscuits, nougats, etc.
Fine foods : fruit jellies, etc.
Organic foods : spices, infusions, assortments, etc.
Do you need compostable hard-bottom bags quickly? Contact us to ask about our minimum order. Because the bags are available from stock, they can be delivered quickly in France and abroad.